14 Mar

6 Simplicity Tips to Help You Through the CoronaVirus

If you're like me, the coronavirus has you a bit on edge. (That may be an understatement…) Store shelves devoid of toilet paper, grocery checkout lines that stretch to the back, and schools closed for the rest of the month.

There is a very real temptation to give in to all of this and start to panic. But I encourage you, my dear readers, to take a step back and think about how this time might allow us to slow down and focus on what really matters: our loved ones, our health, the incredible and precious gift of each day we're allowed to walk this earth.

And if, after that bit of calming contemplation, you find yourself stuck in your home more often than you'd like, I'd encourage you to use this time to think about those bigger ideas that often get lost in the day-to-day hustle and bustle of normal life.

So I thought today I'd share some of my favorite podcast interviews with you. I've done quite a few interviews over the years, so I rounded up six of my favorites to give your ears–and hopefully your heart–a treat as you shelter in and ride out this time.

And hey, if after listening you feel so motivated, remember…
Decluttering your  home is  a great way to improve your peace of mind and NOT spread germs to anyone! 😉
Enjoy, stay healthy, and remember… we're all in this together!
The B'Joyed Podcast – Confession… I rarely listen to podcast episodes I'm on. I already know everything I said and I'm often asked similar questions. But I listened to EVERY SINGLE MINUTE of this one. I recorded it with my friend Amber Pecoraro, and it focuses on finding joy by creating more physical and mental space. This episode goes waaaaay beyond just looking at our physical stuff, and delves into how simplicity creates the mental space necessary for joy. I dare you to listen and not feel happier as a result!
Women's Health by Heather Hirsch, MD – I met Dr. Heather at a women's wellness conference and immediately knew I had A LOT to learn from this lady! Her goal is to close the gaps in women's midlife health to help women find the menopause support and care they need. And she just got snatched up to lead a women's health initiative at HARVARD, so yeah… she's a lot smarter than me and don't be surprised if you see her as the health expert on CNN someday. Our podcast episode focused on how simplicity can create mental health, which allows women to pursue their best overall health.
Simply B Organized – I've been a guest on Laurie Palau's amazing podcast twice and I have to say… this second appearance was my favorite! Laurie and I talked about how to  declutter your finances to create a greater sense of personal freedom. I share my story of how Josh and I paid off over $100K of debt in just over two years. If you're stressing the clutter in your budget and feel like there's no way out… you need to listen to this!
Cocktails and Containers with Christy Lingo – Christy is one of my best friends and I've been a guest on her podcast several times, but this recent appearance was one of my favorites! We talked in-depth about a question I get all. the. time. "How do you get your spouse/partner on board with decluttering?" If you're tired of grinning-and-bearing-it as you observe your spouse's less-than-tidy habits, you need to listen!
Detox for Vibrant Health with Jessica Green – Jessica's podcast is one of my most recent interviews, and what I loved about our conversation was how we made the connection between decluttering and physical wellbeing. If you struggle not just with clutter, but also with taking care of your physical health, this is a terrific episode to inspire you to clean out those closets… and improve your overall wellbeing!
The Sustainable Minimalists Podcast with Stephanie Seferian – And last but certainly not least… listen to my interview with Stephanie Seferian of the Sustainable Minimalists podcast. This was one of my very first podcast interviews and it's still one of my favorites! Stephanie and I talk about where minimalism intersects with our finances and the environment. Stephanie is one of the best podcast interviewers out there, so you should definitely listen in!
I hope this post provides you with some positive ways to relax and use this more-housebound-than-normal time to think about the more important stuff… because we all know… it's NOT stuff.
And if any of these episodes inspire you to want to pursue a simpler lifestyle this spring…
To health, happiness, and all the other important things that aren't things…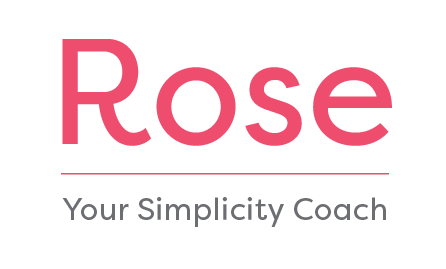 PS Want to simplify your life but not sure how to start? Grab my FREE simplicity starter guide and let's get going!