Back to school results in mixed emotions at my house. My kids moan. (Although secretly I think they're excited to see friends and adults who aren't me!) I'm relieved. (Finally, predicable work hours without distraction + that dang mom guilt…)
But this year, much of that is thrown out the window. With COVID, we're facing a more uncertain back-to-school period than ever before. And if you're a parent, you might be feeling like a Nervous Nellie.
Some thoughts you might be having…
I'm still working from home… and my kids' school just announced that they're totally online until October! How am I going to manage this?
What if I/the kids/my partner get sick and need to quarantine?
How do I set up my home as an organized space for the very real possibility of homeschool/half days?
My kids' school now has a weird rotating day on/day off schedule. I'm not even managing the current schedule! Where's the nearest hole so I can stick my head in it?
I hear you, parents. So today I'm sharing some of my top tips to help you make back-to-school simpler and less stressful during COVID.
1. Create an at-home learning space
Even if you're planning to send your kid back to school full-time, face-to-face (like me), the reality is… none of us have any idea if that's going to happen. So take a moment to consider what kind of space you might need if your kids need to do virtual learning.
Some things to consider:
Space to store extra tech, like laptops and chargers
Work space for each kid. Desks are great but if you don't have those (like me) a sturdy clipboard works just as well.
Easily accessible supplies. Google "school supply caddy" to find simple low-cost options.
2. Create a face mask washing system
Now here's an organizing system I never thought I'd have to create: face mask rotation! But such is life… and the truth is, if your kids are wearing masks to school every day, those masks are germ magnets.
Get online (or if you're crafty, hit up your sewing machine) and get 6 face masks for each kid: one for each school day + one extra to store in their book bag in case they lose one. Different colors/styles are best so it's easier to remember which mask was worn that day.
At home, place a lingerie bag near the front door where they can deposit each day's "used" mask. On the weekend, wash all the masks so you're ready for the next week.
3. Hook It Up!
One of the best tips for simplifying any space is to make use of your vertical space. Install plenty of hooks hear your entryway for kids to hang backpacks, coats, and lunch boxes as soon as they walk in the door. Even if your kids end up learning from home, hooks will make this sooooooo much easier!
Hooks are much easier for kids to use than hangers. Ever notice that every preschool and elementary school classroom relies on hooks for students' coats and backpacks? Now you know why.
4. Drop It In!
This relates to paper, particularly the paper your kids are responsible for. Even if your kids are doing virtual learning, they will need a place to store paperwork. I give each kid an inbox that is JUST FOR SCHOOLWORK. If the all caps didn't drive the message home, let me repeat: give each child an inbox that is just for schoolwork. Do not let this become a dumping ground for toys, memorabilia, or the like.
The papers in my kids' inboxes relate to whatever needs to be done for school the next day or for the upcoming week. It is an active space and my kids know to go there to retrieve homework and important papers. This will save you some stress, so get yourself to a dollar store for some inexpensive plastic inboxes. If you prefer, you can buy the stacking paper trays that you often see in office supply stores.
5. Minimize Supplies.
It's really tempting this time of year to go hog wild and gorge yourself on 10 cent notebooks and 25 cent packs of crayons. But really, do your kids need folders and notebooks in every color of the rainbow? Perhaps they do, and you will know this because their teachers will tell you or a school supply list will come home informing you of it.
If you don't get this message, rein yourself in and don't purchase all those extra supplies. They will just become clutter. If your child needs a new notebook halfway through the year, you can go buy him one then, yes even at the whopping price of $1 or $2. You will survive and you will be thankful that you didn't have to keep an office supply store's worth of inventory.
6. Write It Down!
One of the first things I learned during my teaching days was to fill out the entire year's schedule before school even starts. Every early dismissal, every Monday off, every holiday concert was already on the calendar by the start of school. I guarantee your child's school has a calendar somewhere, either printed in the front of your child's school-issued planner or on their website. FIND THIS CALENDAR and ADD IT TO YOUR PERSONAL CALENDAR.
Before school even starts, I spend about 15 minutes adding every school event to our family's Google calendar. Sure, it feels weird to type in "Last Day of School" before the first day of school has even started, but then I know the rhythm of my kid's school year and I can plan accordingly. (And bonus, you can then toss that paper calendar from the school with no remorse!)
7. Recycle, Recycle, Recycle!
The amount of paper that comes home from school with your little darlings is immense, even in a digital age. I urge you, read that paper–as quickly as humanly possible–and then immediately throw away as much of it as you can.
After going through the papers my kids get from open house, I toss probably 85%. I don't need 3 copies of the school handbook, 3 welcome letters from different teachers, or multiple copies of the school lunch menu. Keep only what you actually need to refer to throughout the year and toss the rest. If you need it in the future? A quick email to a teacher or stop by the school office will probably hook you up with that paper again. Very little in life is irreplaceable, and that definitely applies to nearly every paper your child brings home from school.
If you'd like some more tips on how I manage back-to-school paper with my kiddos, enjoy this video!
8. Let Go.
I saved the best for last. I think the best thing we can do to prepare ourselves and our kids for a COVID school year is this…
Let go of our expectations about what school should look like.
Let go of thinking it "should" be this way or that way. Let go of worry that we're doing it "wrong" or that our kids will be harmed by learning online. Let go of wishing COVID was over so we could go back to "the way things used to be."
None of these thoughts are helpful. And as a matter of fact, they're harmful because they keep us from seeing this pandemic as a possibility, as an opportunity. Our kids have an opportunity to learn differently. Our teachers have an opportunity to grow their skills in online instruction As parents we have an opportunity to be more involved in our kids' education than ever before.
Yes, this pandemic has brought pain and suffering. But that's not all it has brought us.
I firmly believe that COVID is giving us all an opportunity to grow, learn, and become better versions of ourselves.
But in order to see that, we must LET GO of our expectations that things be different than what they are.
Wishing you a safe, healthy, happy, and simplified school year…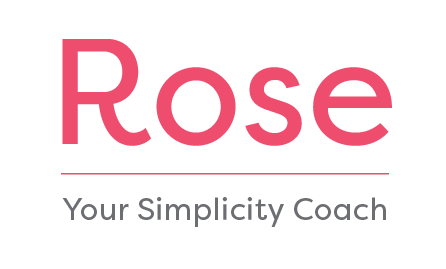 PS: If you're a busy working mom who wants to simplify your work-mom life, but aren't sure where to start… join me for my FREE *live* masterclass: How to Organize Your Family's Home Without Exhausting Yourself or Resorting to Threats. Click here to save your spot!