They've already begun… Black Friday ads, urging us to bust out of our turkey comas during the wee hours the Friday after Thanksgiving (or even Thursday night, before the pumpkin pie has settled in), open our wallets, and buy… lots of stuff.
The problem is, most of us don't need anything that's for sale on Black Friday. Buying things just because they are on sale is a recipe for bringing clutter into our homes, possibly going into debt, and creating more landfill fodder.
My only caveat to the anti-Black Friday movement? If you actually need to buy something on Black Friday, by all means, go for it! Several years ago I bought my son Reese an electric scooter–his #1 Christmas request–on Black Friday. So there, I've shopped on Black Friday and liked it, ha!
But I would argue…
There is a difference between shopping with intention and shopping to shop.
I urge you: ignore the latter.
Now I realize that most of us aren't actually hitting the pavement this Black Friday. Due to covid, there will be less people shivering in lines at 5am to get Doorbuster deals.
But I know that for many people, Black Friday shopping is a tradition. I get it. I've been there.
So if you have a Black Friday shopping tradition, consider a different type of activity this year.
Some ideas:
Board game marathon

Binge-watch a favorite TV series

Hike a local nature trail

Bake cookies

Put up holiday decorations

Make a craft

Create an obstacle course in the backyard

Volunteer to clean up an elderly neighbor's yard

Lend a hand at your local soup kitchen
There are truly limitless ways to make memories on the day after Thanksgiving that don't involve whipping out your credit card and adding clutter to your home!
Another idea:
If you want to shop, buy toiletries, socks, underwear, towels, linens, hats, gloves, and winter coats to donate to a local homeless shelter.
These are high-need items at all shelters, and this type of shopping adds untold goodness to the world.
One last type of Thanksgiving weekend shopping that's Rose-approved?
Small Business Saturday
Money spent at local mom-and-pop shops stays in local economies, which is good for all of us. You're less likely to overspend at these types of places, and you'll find truly unique gifts for your loved ones.
So, I urge you: let's make Black Friday a little better this year. Find a way to bond with your loved ones that doesn't involve buying stuff and if you do shop, use your dollars to help those in need or support local small businesses.
Cheers to more meaning and less stuff this holiday season!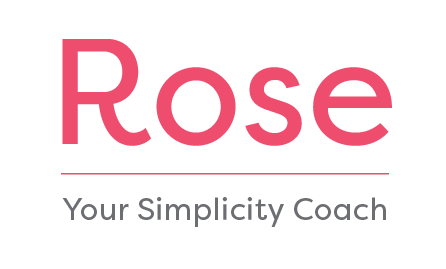 PS An even BETTER use of your time on Black Friday would be decluttering and simplifying your home! If you're ready to start creating more open spaces in your life… grab my FREE Simplicity Starter Guide and let's get going!