19 Dec

Kids' Rooms: Turning Chaos into Calm

If you've ever looked into a child's bedroom, you may think that kids are inherently messy. However, I would disagree. Sure, some kids are more naturally organized than others, but overall, I've found that kids will pick up their own rooms under two conditions and two conditions only:
Their rooms are not overfilled with stuff.
It is obvious where things go.
(Guess what? These two conditions apply to those adults you live with, too!)
With these two ideas in mind, I had the pleasure of helping a favorite client tame the clutter in two of her kids' rooms this past week.
Here are some before pics to give you an idea of where we started:
After a brief consultation with my client to determine her vision and purpose for each space, I kicked her out (nicely!) so I could prep the rooms by making like-with-like piles: clothing, Legos, Barbies, etc. This is a big advantage of hiring a professional organizer. Often, people feel overwhelmed by cluttered spaces and just getting started can feel impossible. Having someone else group all the like items together makes it much easier to make decisions about the items. After I had created my piles, I called my client back in to make decisions about trash, treasures, and donations. She was able to sit comfortably while I brought each pile to her, much nicer than having to scrounge underneath her kids' beds herself. (Note: I have absolutely no problem scrounging under a kid's bed… it's a fascinating treasure trove down there!)
As she made decisions, I put the treasures in separate piles on the floor and bagged up the trash and donations. This client is a very fast decision maker, so we were able to move quickly and donate many items her kids had outgrown. Thus, we achieved the first goal: reducing the amount of toys in each room to a manageable level. 
Then we moved on to the second goal: making sure her kids know exactly where things go. I think this is the biggest mistake we make when we tell kids to clean their rooms. They have no idea where things go, so they just shove everything under the bed or in the closet or randomly into bins. Thus, instead of learning how to organize, kids learn to just "hide the mess" which is a habit that often carries over into adulthood. (I think many of us, including me in my early adult years, can relate to that!)
Luckily, my client already had some awesome organizational infrastructure in place. I LOVE these Trofast storage units from IKEA that she had in each room. Kids can just toss toys in without having to finagle tricky lids. (If your kids will put away toys by removing a lid first, you have more determined kids than I do!) I labeled each bin with chalk pen so her kids know which toys go where. The advantage of using chalk pen is that it's easy to wipe off with a damp cloth and rewrite the label if you change the contents.
For the toys that wouldn't fit in the bins, we used under bed storage containers. I removed the lids to allow the kids to easily toss toys inside and I labeled each bin with a label maker. Again, focusing on principle #2 here: I want them to know exactly what goes where.
And of course, we were left with other toys that didn't fit either place. We used simple baskets, but I made sure to label them (I won't repeat why… you should have principle #2 firmly ingrained in your mind by now!) with twine and wooden gift tags.
To maintain organization, I talked to my client about some strategies I use to help my kids keep their rooms clean. (No, they don't automatically clean them! I have children, not robots). Here are some catchphrases I often use to make room-cleaning easier on all of us:
"Why don't you put away the stuffies and I'll put away the cars?" I strongly recommend picking up with your child, especially when you are just starting out or have recently organized the room. It lets them know your expectations and it teaches them exactly what to do. (We all know how fun it is to have a child spend 30 minutes "cleaning" her room, only to discover that it is nearly as messy as when she started.) Also, saying the names of the categories out loud–stuffies, cars, little guys–helps your child start thinking of their belongings in terms of categories, a strategy that will help them stay organized their whole lives.
"Where do your Barbies go?" Again, you're saying the name of the category, reinforcing the idea that like items belong together, but this question also forces them to think about a particular place the items belong. It teaches kids that all of their belongings have a home, another key strategy to having an organized adulthood.
"Clear your floor." Once your kids are comfortable with the concepts of categories and homes, this is the command I use instead of "clean your room." "Clean your room" doesn't tell kids what you want to see. In my house, I want to see a clear floor, so that's what I tell them to do.
Here are before/afters of each room, so you can see how each project turned out.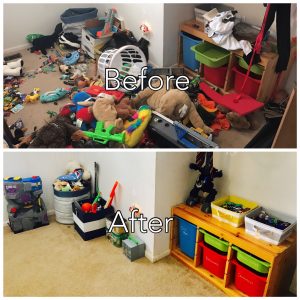 I'm so excited that I could help this client achieve kid room organization before the holidays! If you have littles in your life with rooms that make you want to cringe, I hope this post was helpful to you. I'd love to hear reader ideas about how you help your kids keep their rooms clean!
Rose Lounsbury is the Dayton, Ohio area's up-and-coming professional organizer. After blogging about her own journey toward a minimalist lifestyle, Rose was inspired to start Less, a minimalist-minded professional organizing company. If you'd like Rose's help with an organizing project at your home or office, please call her at 937-626-9030, email her at Rose@OrganizeWithLess.com, or visit her online at OrganizeWithLess.com.